Infoagenda
Published on September 15th, 2014 | by Marius
0
Bucharest led … back, la Silvia's Art Gallery din Cluj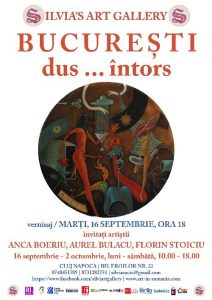 SILVIA'S ART GALLERY
Invites you to the opening exhibition

BUCUREȘTI, DUS ... back
16 September – 2 October 2014
L-S: 10.00 – 18.00

București, So .. back aims to present a number of artists active Bucharest national arts scene.
The exhibition opens a series of events that aim to create link between two major art centers and universities: Bucharest and Cluj.

Take:
Anca Boeriu, Bogdan Birch, Aurel Bulacu, Andrei Ciubotaru, Emilia Kiss, Felicia Ionescu, Nicolae Iorga, Marielna Murariu, Ion Panaitescu, Rareș Pantea, Ştefan Pelmuş, Florin Stoiciu, Mara Vâlceanu Breza
Cultural event supported and promoted by Artinfonews.ro.