Event
Published on September 12th, 2014 | by
0
București: a portret "Novecento" – Museum Bucharest
"Bucharest: a portret Novecento. The story of a century of 555 birthday ", a book and an exhibition that opened each other to tell the story of the twentieth century Bucharest.
There are books that ecranizează, books that dramatizes, books that expoziţionează.
Bucharest: a portret Novecento. The story of a century of 555 Birthday ˃˃ is an exhibition open to the book of the same name, signed by Dr.. Adrian Majuru. The book you can take with you at home or in a pocket.

Exhibition, open from 17 September – 19 October to Palace Suţu, is honored by the presence Academician Constantin Bălăceanu-Stolnici și is. Antoine Heemeryck.
With the hosts Museum Bucharest, is. Adrian Majuru, Sasa-Liviu Stoianovici and Călin Torsan will recreate the atmosphere of the last century in Bucharest, Musical agreements when crafted, the improvised.
The exhibition is open to Palatul Sutu – Museum of Bucharest (Bd. I.C. Brătianu nr.2) during 17 September - 19 October 2014.
The city lives through many souls. We have a city that is as, a city with message, the details of which changes almost every generation. City communicate by voice all ages, having so many voices synchronized with attitude, facts, projections of future.
The project aims to map the human geography of the twentieth century. Overlapping maps do not belong exclusively to the past but rather an ongoing present whose last word is trying to define a possible forecast for the medium term.
If the first map takes the symbolic geography of a living organism, The messages continued and multiplied by advertisements, fațade, public spaces at street gardens, maps that follow are in constant motion as they are related to humanity that evolved here and eating price over four generations.
People on the street are a barometer of urban civilization in what they are like attitude, vestimentaţie, projections of life and especially by what they consume every day or every age.
Man City's home life but a very distinguished professional and cultural calendar, always turn enriched and diversified through accumulation and multiplication. His story and the story of a long vertical axis they, of the 1900 la anii 2000, grandfather and great-grandson of, no consistent precedent in Romanian historiography. Living history, home spaces, residential areas have their story accessories.
But there is a long horizontal axis, ages that are still repeated with each generation: childhood, Teens, adulthood and old age. As they looked at the faces of those aged 1900 la anii 2000 is a challenge anthropological, and Bucharest can be an interesting case study for the cultural history of Romania.
This journey through the twentieth century does not propose to detail the evolution of urban society, but to show, generally, some behavioral changes, mod viaţă, concerns, even the type of housing and interior ambientare.
Dr.. Adrian Majuru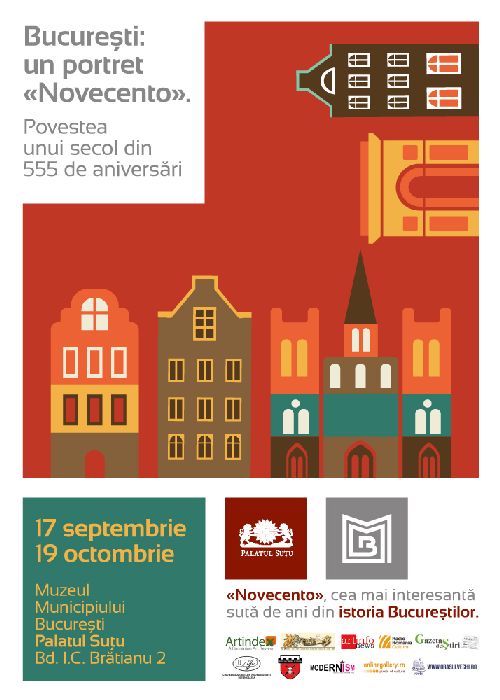 artinfonews.ro supports and promotes this event.