Reportage
Published on September 12th, 2014 | by Marius
0
Story UNEI capodopere â € "Carolus Magnus de Emil Ciocoiu
2014 was, at least for the city of Aachen, for Germany and for those who talk about Europe, Charlemagne Year. In 814, Now 1200 de ani, giant king, the propriu şi the figurat, passed away leaving a legacy holy stunner today.
There are numerous and spectacular manifestărileşi initiatives to mark the time Charlemagne 1200, one of them being exhibition Charlemagne. Power, Art and Treasure, held in Aachen, June to September, in three key places in the royal court of Charles the Great.
November, fact, want to refer to the monumental painting exposed Aachen City Hall these days, an emblematic image of the visionary king painted by Romanian Emil Ciocoiu, established in Aachen in 1980. The artist made a work of great impact, an image that emphasizes the European timeliness of Charlemagne, bringing in the mists of history, of 12 School, composition flagship azure and gold European flag. Spada to bring light and Christianity and his eyes piercing exudes wisdom.
Carolus Magnus was painted by Emil Ciocoiu two years, is a large painting and a huge power of suggestion. We must emphasize that this painting was first exhibited publicly in Bucharest, in autumn 2013, the National Theatre Bucharest hosted large retrospective Emil Ciocoiu, over 200 blades, many of them for the first time in Romania.
 
Fotoreportaj Marius Tita
Carolus Magnus in City of Aachen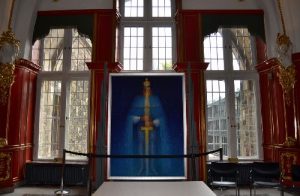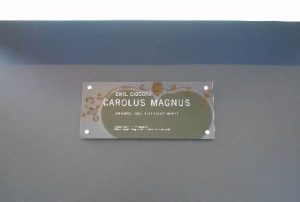 The mayor of Aachen, Marcel Philipp, the exposure of the Hall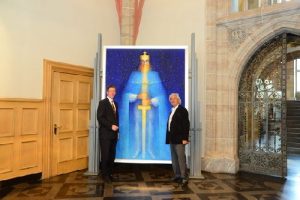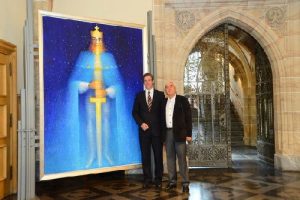 Carolus Magnus Emil Ciocoiu, Nae Theatre> Bucharest ™ level you, in 2013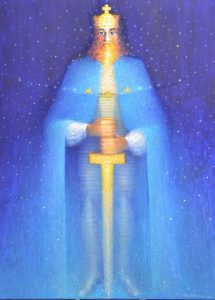 Carolus Magnus In the studio of the painter Emil Ciocoiu Aachen
The collection> officer Dieter Philipp
Mihnea Tie> and, an old friend
The composer Marijn Simons, violonist, Ayi pianist dirijor, author Composites> musical take žWater song â € € – â € ZCA song water € , inspirată de "Trilogia apei" pictată de Emil Ciocoiu