Art market
Published on July 11th, 2014 | by
0
Bidding Goldart 127 – Environmental art
Monday, 14 July 2014, now 19:00
Gallery GoldArt Ghildush
House Licitaţii Goldart punearea announces sale Monday 14 July of a new batch consistent environmental art. House experts have carried out a rigorous selection and plastic decorative arts designed to meet the tastes of what they want beautifying the house and collection.
From refined Art-Nouveau glassware, faianţă şi porţelan interbelic, the European silverware and small pieces of adornment unusual, ornamental objects can be "delighted" to any modern housing.
Undisputed masters of Romanian contemporary art works included in the auction of the most attractive: Viorel Mărgineanu, And Hatmanu, Sorin Ilfoveanu, Ștefan Câlția și alții.
Collectors also have the possibility to choose the most appropriate works of genre painting now present: landscapes of Alexander Satmari, Sorin Ionescu, Iosif Iser, Ion Pacea, Constantin Artachino, Lucian Grigorescu, Vasile Ștefan and many others; characters compositions and portraits signed by Artachino, Rudolf Schweitzer Cumpănă, Alexis Macedonski, Michel Simonidi, Șirato, etc.; static nature Vasile Grigore, Biju, Cosmovici.
No less "spiritual corner" of the house are dedicated to those few icons on sale, of which detaches glass icons Fagaras.

Potir altar
circular arched soles, foot baluster and cup decorated with palmettes and acanthus leaves Laced Silver 750 ‰. The sole inscription engraved with the names of donors and dating 1863, 728 g. h = 27,5 cm
Appraisal 350 – 400 EUR


IOSIF ISER (1881-1958)
Istanbul Port varnished gouache / paper, signed lower right (T.A.P.) 30 x 38 cm
Appraisal 6500-7000 EUR


ION PACEA (1924-1999)
Seaside oil / canvas / board, signed lower right; on verso dedication and emnătură (T.A.P.) 47,5 x 63 cm
Appraisal 2000-2300 EUR


Vasile GRIGORE (1935-2012)
Purple Flowers Oil / canvas / board, signed lower right; eg to intitulat, signed and dated 1983 (T.A.P.) 39,8 x 35,3 cm
Appraisal 1100-1300 EUR


MICHAEL (MICHEL SIMONIDY) SIMONIDI (1870-1933)
Gentlemen, three ladies and garden greyhound oil / wood, signed, dates 1905 dreapta jos (T.A.P.) 48,5 x 61,3 cm
Appraisal 4500-4800 EUR


RUDOLF NEGELY (1883-1950)
Venice Landscape Oil / canvas, signed and dated (1)950 stânga jos (T.A.P.) 50 x 70 cm
Appraisal 1500-1700 EUR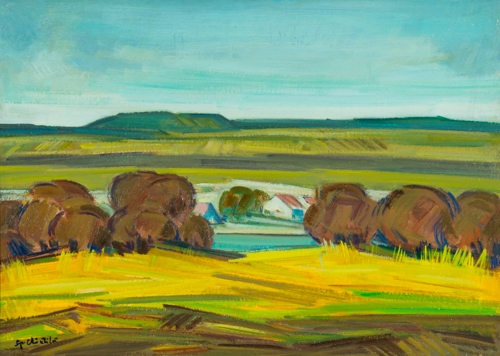 SPIRU CHINTILĂ (1921-1985)
Dobrogea Landscape Oil / canvas, signed lower left; eg to semnat, intitulat si atat 1970. It comes from the family collection (T.A.P.) 33,3 x 46 cm
Appraisal 800-900 EUR


Lucian Grigorescu (1894-1965)
Landscape in the south of France Oil / cardboard, signed lower right (T.A.P.) 23 x 39,5 cm
Appraisal 2700-3000 EUR


CONSTANTIN ARTACHINO (1870-1954)
Homes geamlâc Tartar with oil / wood panel faceted, signed lower left (T.A.P.) 35,5 x 44,8 cm
Appraisal 3700-4500 EUR


CONSTANTIN ARTACHINO (1870-1954)
Young woman in traditional costume oil / canvas, signed, dates 1904 (?) dreapta jos (T.A.P.)
46 x 35,7 cm
Appraisal 3300-4000 EUR


RUDOLF SCHWEITZER-Cumpana (1886-1975)
Self portrait of young oil / canvas with reinforced edges. The paper is reproduced in the catalog "painter Rudolf Schweitzer Cumpăna - Bits of life" Zoe Apostolache-Stoicescu, Maximilian Zielinscki, once. 226 (T.A.P.) 34,2 x 26,7 cm
Appraisal 2000-2500 EUR


SABIN Balas (1932-2008)
Dreaming oil / canvas, signed, dates (19)82 stânga jos; eg to dedicaţie holograph, signature and date 1982 (T.A.P.) 50 x 61,5 cm
Appraisal 3300-4000 EUR
 
The works can be viewed online, pe www.goldart.ro, la Gallery GoldArt Ghildush, In. I. The. Caragiale nr. 1, sector 2, București, following schedule:
Wednesday, 9 July - Friday, 11 July, between the hours 09:00 – 17:00
Monday, 14 July, between the hours 09:00 – 19:00