Art market
Published on July 29th, 2014 | by Marius
0
Auction Goldart modern and contemporary fine art
Auction of modern and contemporary fine art
Gallery GoldArt Ghildush

Monday, 4 august 2014, now 19
"Let us decorate your home in a festive" seems to be the motto summer auction house GOLDART Ghildush, in both its offer of 4 August is distinguished by the diversity and charm of objects offered for sale.
Segment of decorative art is replete with decorative pieces of the various: served in parts of Western and oriental pottery and porcelain, the seals of office fireplace and admirable antique candlesticks apply.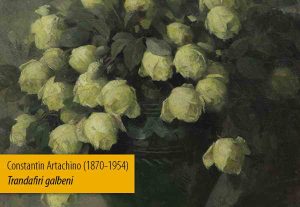 The main genres of painting are also richly represented: portraits signed by Sorin Ilfoveanu, Francisc Șirato, Iosif Iser, C. D. Stahi, Gheorghe Zamphiropol Blind, Hippolytus Strâmbu stylistic diversity competes with still lifes of D. Băjenaru, C. Artachino, Here lovers, Pia Massaci Căpşuneanu or lovely landscapes painted by Iosif Steurer, Sava hentia, Arthur Garguromin Verona, Traian Brădean, Iosif Rosenbluth, Cecilia Storck Cuţescu, Maria Pillat Brateş or Marilena Murariu.
 
Ipolit Strâmbu, Young woman with fan
Ştefan Pelmuş, Symbols
Sorin Ilfoveanu, Purple peacock
The notes aside, expression through their unity in the exhibition are three works of Rudolf Schweitzer-Cumpăna; two interior scenes and still life, designed technique known opulent, rich paste, dense, applied with great verve; images emerged from brush master Schweitzer-Cumpăna capture the truth of life, evince a remarkable sense of concreteness, devoid of any idyllicism.
Rudolf Schweitzer-Cumpana, Family Scene – Douchebag
Finally, beauty lovers can enrich libraries with numerous studies and album art, most representative Romanian painting and sculpture.
 
The auction number 128 a Ghildush GOLDART House will be held on Monday, 4 august, now 19, The Gallery GoldArt Ghildush, In. I.L. Caragiale nr. 1.
Visiting the exhibition can be here, following schedule:
Monday – Friday (21 iulie-August 1), between the hours 9:00-17:00
Saturday, 2 august, between the hours 11:00-17:00
Monday, 4 august, between the hours 9:00-19:00