Infoagenda
Published on July 25th, 2014 | by Marius
0
The exhibition of painting and sculpture Ovidiu Cornel valve gules, the Sinaia Casino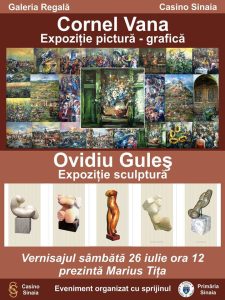 The end of July brings inside Sinaia Casino Royal Gallery exhibition of two artists: Cornel Vana (painting) Ovidiu Gules (sculpture).

"A strong presence of recent cymas, Cornel valve builds images in short strokes, almost nerve, in a high vibration color swirl. Ovidiu Gules bring this dance near merits iscodirii wood color, stone or bronze, where effigies reveals deep cut, clear forms, or care of a relief." (Marius Tiţa)


The opening takes place Saturday, 26 JULY 2014, la ora 12:00, the art critic Marius Tiţa will present
works of art, working technique and condition that led to the creation process.

The exhibition can be visited in July and August from Wednesday to Sunday, between the hours 10:00-18:00.

Tarsu Ana-Maria, Manager, International Conference Center "CASINO" Sinaia
Pictura Cornel Vana
Sculpture by Ovidiu Gules