Event
Published on October 7th, 2014 | by
0
PAINTING BY ELIZABETH VAAL – SILVIA'S ART GALLERY
SILVIA'S ART GALLERY
Va Invita JOI, 9 October, now 18
an unprecedented meeting with Dutch artist
ELIZABETH THE VAAL
PAINTING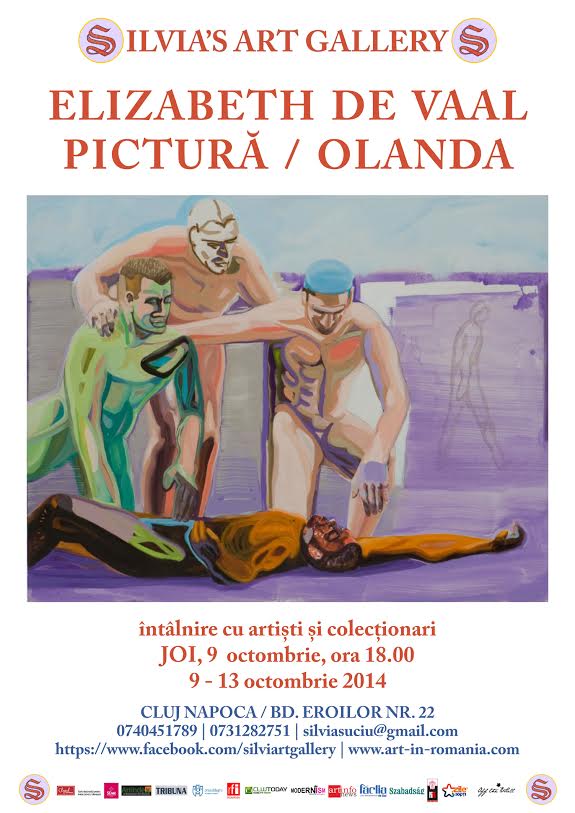 Exhibition open from 9 – 13 October 2014, L-S: 10.00 – 18.00, Bd. Eroilor nr. 22, Cluj-Napoca
Invited artists and collectors who want a deeper understanding of the phenomenon of Dutch and European contemporary art.
Elizabeth Vaal is a Dutch artist in The Hague, and director of the residency artists from Pécsbagota, Hungary, becoming the main actor of the cultural life of Pécs.
He graduated from the Academy of Arts in Rotterdam, Willem de Koonig those of '63 Workshop. He had exhibitions at the Museum Arnhem and Central Museum in Utrecht. His works are in public collections, corporate and private collections.
In recent 20 years he taught art in several art institutions, including Amsterdam Rietveld Art Academy. He was a member of numerous committees and juries, working, as a counselor at Stroom Den Haag and the Fund for Visual Arts in Amsterdam. Of 2004 trăieşte la partie Pecs, where he teaches at the Academy of Visual Arts. Founded by artists in residence Pécsbaogta order to invite Dutch artists for creating and experiencing another culture.
The first view, Vaal Elizabeth's work shows us situations and situations that seem obvious and normal. A more in-depth on them makes us, but, We raise a number of questions. Working in different techniques, in various sizes, consistently addressing the same topic. style, materiality and pictorial works are subordinated metaphorical message it conveys. For Elizabeth Vaal painting is a means and not an end in itself, stating the desire for freedom and the fight against superficiality.