Reportage
Published on August 6th, 2014 | by Marius
0
Go în Montparnasse, Lucian Georgescu, the 50 anniversary of his birth
Appointment în Montparnasse, Lucian Georgescu, the 50 anniversary of his birth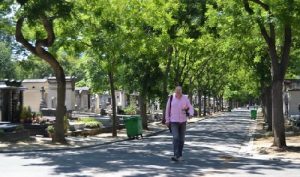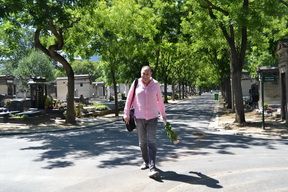 We meet in the cemetery, Brancusi's driveway, sent us decided Lucian Georgescu, when he found out that I got in Paris. Could not be more surreal than just teaching. Lucian Georgescu is a passionate connoisseur and marketed by Romanian avant who conquered the world with headquarters, much of life and grave in France. He tried to do that and Bucharest, but contrast medium and mentality he laughed. Garnish with history and wonderful stories about Romanians in the epicenter of avant-garde art and certificates from heavy and only able to give something, Lucian Georgescu woke up in the middle of a crass carelessness and strange preference for shady deals but under the right price. Now, many of the works of Marcel Iancu made for the great exhibition dedicated to a brilliant artist, in the city which gave no paintings, but the whole building, stuck in customs after a conflict lasting and could lead us to the European courts and a substantial bills for the taxpayer.
With a stature that his exact words and ironies accentueză fine, Lucian Georgescu welcomes us one of the central alleys, two roses in hand. Erau pentru Jacques Herold, essential for the artistic avant-garde artist, born in Romania but that most Romanians did not hear or did not even imagine that it was Romanian. In 2010, the centenary of his birth, French organized the Cantini Museum in Marseille, a large retrospective at the Lucian Georgescu has contributed organizers recognized and emphasized there, including the excellent exhibition catalog. Lucian Georgescu brought the first works of Jacques Herold market and art auctions in Romania. In Paris he goes to the grave flowers that only he knows. It's a real branches and green paralalepiped, to be cut regularly in this form. The inscription on a wooden plaque was removed and occasionally surreal "bloom" two roses brought by Lucian Georgescu.
Brancusi's final resting place is full of flowers, a tasteful professional arrangement. It's so neat that you shiver at the thought of us Cocle thoughts on transmutation, insincere in spotlight. In the last years of his life, Brancusi naturally started to approach you preparing for a life, that the Romanians to leave his studio work and the holy temple. Answer academics, headed by the famous George Oprea, to whose worship we are required to worship and we now, I rushed the brilliant sculptor to grave, broken by disappointment and sadness that his people have rewarded. In the same grave with his stand Brancusi those who stood in recent years and in eternity, painters Natalia Dumitrescu Alexandru Istrate.
In another part of the cemetery Montparnasse Paris is the first Kiss, the grave Taniuşei, teen finally out of love. It is terrible and requires strong, even though visitors still tend to touch the artwork absurd, then see inscription warning that there are surveillance cameras.
In Montparnasse their eternal sleep Emil Cioran and Eugen Ionesco, it as its perfect epitaph, I pray the Who Do not Know / I hope: Jesus Christ.
I would not be writing all this if the Sunday preceding the day 4 august, they reach 50 de ani, Lucian Georgescu we would invite the same message, to meet the Montparnasse cemetery, the great Romanian artists that we love so. Knowing that putting together a syrup on a terrace of Montparnasse, not far from the place where Oscar Dominguez takes his eye off Victor Brauner, and rose the bohemian "La Palette" May that we flew personally identifying information to be Brancusi's driveway, in time photo greeting. We had, but, to send his best wishes, surreal and sincere.
Author, Marius Tita, with Mihnea Tiţa Lucian Georgescu, în Saint-Germain-des-Prés.