Art market
Published on September 5th, 2014 | by Marius
0
TATE meets "Wisdom of the Earth" the Artmark
 
Artmark invites you to visit and participate in
Showcasing Romanian Avant-garde Art from Private Collections on exclusive display
TATE Viewing
Monday, 8 September, now 14:30
Take:
Ana Maria Rus Bojan, international art curator, member of the Tate Modern UK
Doina Lemny, Head Brancusi Workshop, Pompidou Centre, Paris
Ruxandra Garofeanu, președinte, Cultural Center Art Society
Catalin Davidescu, history of art, Art Museum of Craiova
Alexandru Bâldea, managing partner Artmark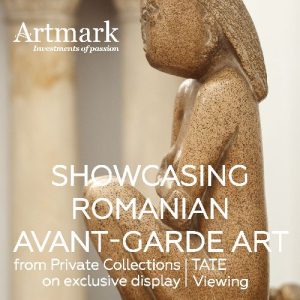 Membri ai comitetului TATE Modern UK, with major international art collectors, arriving in early September in Romania. Artmark, one of the cultural institutions that host this visit, organized Monday, 8 September, request TATE Modern, the most visited modern art museum in the world 2013, a major exhibition dedicated private Romanian avant-garde artists beginning of the century.
One of the stars of the exhibition will be "CuminTapeworms Earth" of Constantin Brâncuși,probably the most important sculpture by Brancusi still on the Romanian, which is now in a private collection, după ce a fost retrocedatăl în 2012. "Wisdom of the Earth" is a work of a past loaded, with a strong symbolic, reflecting deeply creative originality Romanian artist, known worldwide and coveted by all the great museums of the world.
Tate Modern exhibition organized at the request reflects the mobility of artists and fantastic freedom of expression Romanian artists during the early twentieth century avant-garde, they are aware of the Western cultural world of artistic manifestos, sometimes involved in the birth of the avant-garde trends of the time, only sometimes assimilating or continuous. Romanian artists as well Victor Brauner, Marcel Iancu, Arthur Segal, Hermann Maxy, Cornelius Michailescu, Gherasim Luca, Jules Perahia, George Mișoznic, Jacques Herold, Paul Peacock, Brassai, Hans Mattis Teutsch were on the front lines of the avant-regional, and some of them have been and are today ranked first consecrated and West. Present exhibition on "Showcasing Romanian Avant-garde Art, from private collections, TATE viewing", This will provide consistency, history and universal relevance Romanian artistic discourse, subject to the scrutiny value TATE representatives and international collectors.
Among the most valuable works is also "Chimera of Earth" Dimitrie Paciurea (another copy of it exposure being in the National Museum of Art), "Port the Mediterana" Marcel Iancu (from the former collection dr. Iosif Dona, returned to the National Museum of Art in 2007), "The pigeon" Hermann Maxy (from the former collection of journalist A.L. Zissu), "Hipergeneza recurrence" de Victor Brauner (Brauner largest painting located in a private Romanian collection), "Nude"the His Mattis-Teutsch (from the collection of the former Foreign Minister George Macovescu) after "Portrait of Geo Bogza "Jules Perahim (probably the earliest surrealist paintings of Perahim in a private collection, came from the collection of Geo Bogza).
From notat Ca impresionanta colecţie TATE Modern are already several Romanian artists such as Constantin Brancusi avangariste tips, Arthur Segal, Brassai, and postmodern and Geta Brătescu or Paul Neagu.
Demetrius Paciurea, Himera Pamantului
Victor Brauner, Hipergeneza recurrence
Jules Perahia, Portrait Surrealist writer Geo Bogza