Reportage
Published on October 12th, 2014 | by Marius
0
Nearer – Muzeul Kröller-Müller

Cristina Tiţa
Information that strikes you is the Kröller-Müller Museum has the second collection number of works by Van Gogh, owned by the Van Gogh Museum in Amsterdam, where the unfortunate painter even dreamed to reach. But what meaning can we talk about painting figures and feelings, sensations that we cause.
And when, we roll stories. Let's start with Ms. Helene Müller, Mr. Anton Kröller married. Years 1900 if apropiau, steel industry is developing and prosperous business. Children growing, and new ideas that came out of nowhere penetrated. So painting lessons were unable to ruin. But they have brought something more important than the cultivation of a possible talent, Mrs Kröller-Müller met a drawing teacher who opened her taste and guided steps to buy and collected artwork. With its counselor, H.P. Bremmer, were collected over 11.500 works with famous signatures, Van Gogh, and Seurat, Picasso, Light, Mondrian, de Chirico or Brancusi. As, and architect Henry van de Velde gave a helping hand in setting up collection. Often the Kröller-Müller couple company, sometimes one, but the order of family, that participate in national and international tenders, workshops visit, and art dealer, looking for work that would be appropriate collection, complementing a.
At first it was just probably crazy, were purchased several works by Van Gogh with 1.500 de franci. Many-few, money brought home something that proved even more important than painting lessons taken by children. The first painting was purchased "Landscape with Train 'by Paul Gabriel. Followed other and other acquisitions, year after year, increasingly more, increasingly valuable, sign that businesses thrive and taste for painting became so important that he does not deserve to live without. "Scandal" by Georges Seurat is the last work that mattered.
There was a watershed year, when for any 70 drawings requested a sum so large that lady hesitated. So hard that the one who gave courage was husband Anton Kröller. And work were not wasted.
Open since 1938 and having it as a guideline for a year on the very initiator to, found in a national park near unpronounceable names for foreigners - De Hoge Veluwe -, with 330.000 visitors last year, many of them not even pronounce the name hazardându the park!, Kröller-Müller Museum is surrounded by a garden with sculptures and so valuable that they alone would be enough to merit the effort to stray from the highway.
Dincolo of comori, The new pavilion protecting monumental sculptures, but too valuable to sit in the open, remains the visionary idea of ​​ordinary people in a certain point in their lives have had the revelation that I can not live without painting of Van Gogh, and yet they share with us the joy.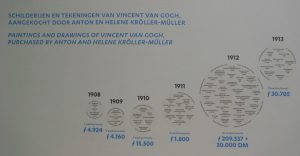 Brâncuși la Muzeul Kröller-Müller
Vincent van Gogh
Piet Mondrian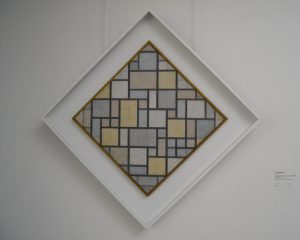 Garden enamel de Jean Dubuffet
Sculpture Park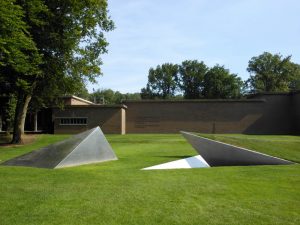 http://www.bursa.ro/kröller-Müller-or-what-works-passion-for-art-242922&s=print&sr = articulation&id_articol = 242922.html