Event
Published on September 30th, 2014 | by Marius
0
Painting by Michael Şerbănescu, Gifts Gallery – Sinaia Casino
Saturday, 27 September, now 12, Gallery Royal Casino in Sinaia, retrospective exhibition held graphics and painting Michael Şerbănescu.
Targoviste was born, there grew up drawing on the sheet of printing of Targoviste together and creates, for years, opera. Art critic Marius Tiţa, who presented the opening, recommend us to admire paintings drawing and composition Michael Şerbănescu, an artist of detail and sensitive observation, we send palpable reality, the mineral rights of which we are composed life and memories. Frame painting was never a limit to simezele Michael Şerbănescu, artistic proposal floating like a smart play and full of talent, In one embodiment consistent.
The opening celebration program was included in Sinaia, festivalul Sinaia Forever.
Mihai Marius Tiţa Şerbănescu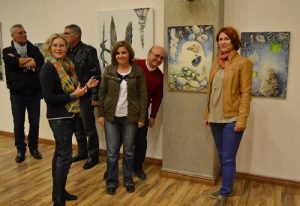 Cristina Tița