Event
Published on September 23rd, 2014 | by
0
Before editie – Bucharest Art Week 2014
Of 26 September 2014, Bucharest for a week will become the host of one of the largest international contemporary art events in Romania. Designed to international public attention on local arts scene and create a space for dialogue multicultural, Bucharest Art Week (BAW) Romania intends to place on the European map of countries where such events are a tradition, and also to differentiate them through unconventional approach, local character, pe audienta focus generala, Art in public space and social impact projects.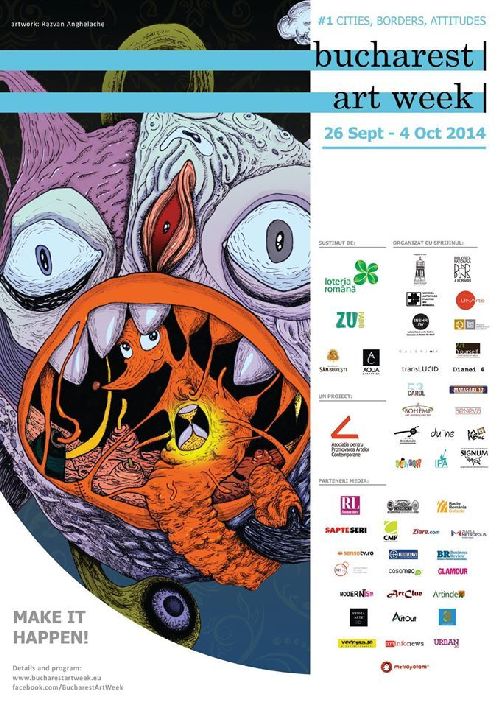 Berlin Art Week begins at the Fire Tower collective exhibition "Inner Fire, a Matter of Limits" / "Internal combustion, a matter of limits ", exhibition curated by Nona Şerbănescu concept that brings together 29 de artisti, including Aitch, Ana asAVI Pietraru, Alexandra Baciu, Ice, Otilia Cadars & Liviu Coman, Ana Chiorean, Marina Cristea, Kitchen, Amalia Dulhan, Teofana Filip, Melinda Kádár & Andrei Curta, Liviu Mihai, Mihaela Magopat, George Moscal, There Muntean, Maia Stefana Oprea, Marina Oprea, Bogdan Pelmus, Magdalena Pelmus, Ana Petrovici, Maria Raducanu, Valentin Soare, Ioana Sisea, Ioana Ursa, Michael Topescu, Romana Topescu si Adriana Vasile. The exhibition will open on 26 September with a large event held between the hours 17.00 and 22.00, marked by marathon-performance sound and live music in full frame signed by Fierbinteanu.
The Carol 53 starts on Saturday - 27 September - "Bitumen", exhibition graphics, painting and installation format "artist run space" shown by a group of young artists, Razvan Anghelache, Alexandra Baciu, Bianca Ionita themselves Daniela Virlan, with special guest Romania Association Parade documented photographically by French artist Gabriel Loisy, while at the IX Gallery will be open photo exhibition "Berlin Today" signed by Japanese photographer Tomoaki Minoda. The day will be concluded at Home Matasari first solo exhibition of paintings of the artist Adrian Dica called "Great Dumpster". Also, Home Matasari will host a collaborative work done by 15 artists from across the country at the festival 18+ the Cluj.

Wanting to facilitate access to contemporary art for a large number of people born art from the platform, a project to promote art in unusual environments. So, North Station will run for 5 days, of 28 September, Video artwork signed by important artists of the field: Peter Daniel Ionescu [Ro.] "The Line", Maia Stefana Oprea "Lining" [Ro.], Dijana Tomik Radevska [Macedonia], "Drama of Gesture" & "Insomnia", Dimitris Palade [Greece] "Fringe Dance" si altii.
National Library will host Monday, 29 September, now 17.00 a preview of the exhibition "History through the eyes of those who lived it: witnesses and testimonies "organized by National Institute for Holocaust Studies" Elie Wiesel "in collaboration with the University of Arts Bucharest and the Association for the Promotion of Contemporary Arts. The exhibition will bring together a selection of paintings and engravings on the Holocaust made by students of the Faculty of Fine Arts in Bucharest, clasa lector Anca Boieriu, a contemporary dance performer coordinated Relu Dobrin discusses the role of the witness in the context of past events and personal belongings of Holocaust victims in June 1941, objects found in 2010, in mass grave in the forest Eagles, Popricani, Iasi, after archaeological investigations coordinated by the Institute "Elie Wiesel". The official opening will take place on 8 October, and the works can be viewed until 17 October, period in which they are scheduled and other cultural activities conducted by the Institute. The exhibition can be visited in the work program of the National Library, throughout the, 29 September - 17 October 2014.
One of the best events of the week's bidding and international exhibition "Balkan Mood: focus Macedonia", event takes place at the initiative of young artists from Romania: Alexandra Baciu, Anca Branz, Alexandra Pasca, Razvan Anghelache, Florina outside, Bucharest presenting art scene a group of Macedonian artists: Srdjan Micic, Orhan Kamilov, Dijana Tomik Radevska, Marina Leskova, Stefan Jakimovski, Sotir Hadji Nikolov, in an attempt to reactivate the common valences. The exhibition will take place in the premises of the National Library and will be open from 30 September.
Day 1 October brings together the Museum "Princely Palace - The Old Court" Cristi Gaspar, Raluca Ghideanu, Groups outbreak (Alina Tudor, Razvan Neagoe), Lucian Muntean, Christian Paraschiv, Justinian Sarlatescu and Maria Pop Timaru in the group exhibition "Urban Solitary", Adina curator Nicholas.
On 2 October, Gallery West audience will participate in a double exhibition: painting exhibition "Restoring phrase" signed by Matei Enric and exhibition of contemporary jewelry design "Musicals" Alexander burlacu.
Week will culminate with a closing party on 4 October to Diana alternative space 4, event that will accompany the opening of "Ghost Host" artist Alex Baciu.
As a novelty in the Romanian cultural and artistic landscape, Berlin Art Week begins with a program friendly guided tours for those who want an experience of visiting art exhibitions plenary, but some shops belonging to some of the artists present moment. BAW program is not without debate series - artist talks.
Berlin Art Week will feature a series of events and projects of contemporary art held in public space in Bucharest and signed by artists Delia Maxim, Paul Popa, Matei Ulmeanu, Julien Britnic, Roxana Gatej, Sabin, Adrian Say you Grupul artistic EGG NO EGO (Valentina Chirita, Ana Johnsson, Mina Johnsson).
The program and list of artists can be found on the official site: www.BucharestArtWeek.eu.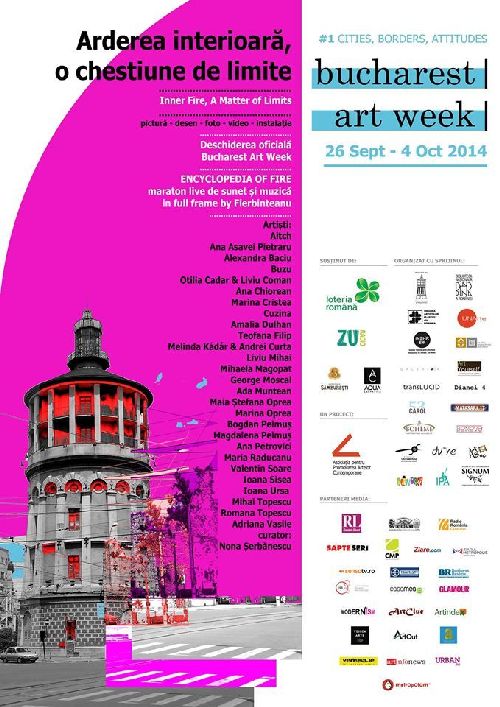 Berlin Art Week is an event organized by the Association for the Promotion of Contemporary Arts with the support of the Romanian Lottery. Protocol Wine event will be provided by Aqua Carpathian areas Samburesti. Event partners are: Fire Tower - National Museum of Fire, Artists Union of Romania, National University of Arts Bucharest, National Institute for Studying the Holocaust in Romania Elie Wiesel, Museum of Bucharest - Palace Shutzu, Princely Palace Museum - Old Court, Gallery IX, Home Matasari, Diana 4 and translucent Association, ArtYourself, Carol53, BENEVA, Gallery West, Gallery Calea Victoriei 33, Galeria Signum, Du-Ne, Art in Bucharest, Alandala, Allegra Nomad Gallery, International Performance Association si Boheme Art Bistro Concept.
The media partners of the project are: Radio ZU, Mure Free, Academy Catavencu, Radio Romania Cultural, Sapte Seri, Metropolis Newspaper, Ziare.com, Business-Review, SensoTV, 121.ro, TriniTrans TV, Casa Mea, Glamour, Modernism.ro, ArtIndex.ro, VeiozaArte.ro, ArtClue.net, ArtInfoNews.ro, Vernisaje.com, ArtOut.ro, ArtNews.org, ArtTaste.ro, Urban.ro.
Contact:
Oana VASILIU
0745.203.798